The North Texas Myeloma Support Group meets at the new Baylor Charles A. Sammons Cancer Center at 3410 Worth Street, Dallas, TX 75246
We meet on the second Saturday of every month from 10:00 a.m. to 1:00 p.m.
Directions to new North Texas Myeloma Support Group meeting room: You are encouraged to park in Parking Garage #4 across Worth Street from the new Cancer Center. (You can park under the Cancer Center, but our parking passes DO NOT work and you will park at your own expense). You can enter Parking Garage 4 from Junius Street or Worth Street. The entrance is labeled #4 on Junius Street and #3601 on Worth Street. (See map and pictures below)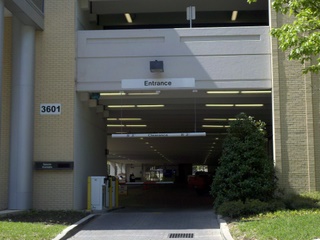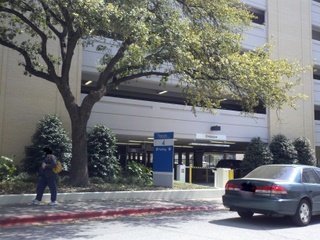 Worth Street Entrance Julius Street Entrance
If possible, park on Level 3 as close to the stairway and elevators on the southwest corner of the garage. The entrance to the Sky Bridge crossing Worth Street to the Cancer Center is on level 3, and is in the same location as the stairway and elevators.
Follow the walk-way through the double doors. When you come to the main walk-way (Sky Bridge), turn left and down an incline towards the new building.
Go through the next set of double doors. You will now be on level 2 of the Cancer Center. Continue on this floor past the gift shop and the cafeteria until you reach the bank of elevators on your left.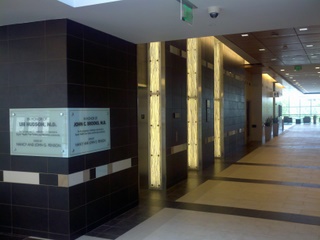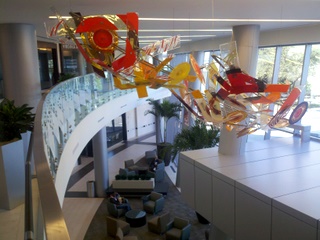 To the right of the bank of elevators, you will see an art work that looks like an airplane
Take the elevators to the 10th floor. We meet in the ARA meeting room (#10105) located down a long hallway on your right.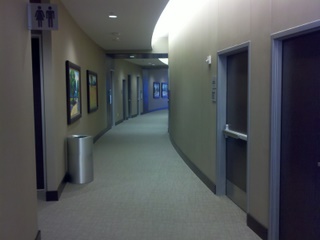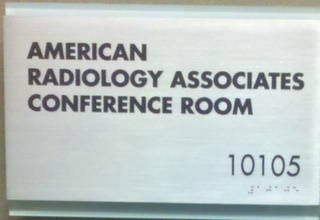 As you exit the elivator on the 10th floor, make a left turn followed by a right turn. Down the long hallway, you will find ARA #10105
We will have our signs up in various locations, so follow the signs. The room is beautiful, large and well equipped and wheelchair accessible.
There will be no food service available in this building on Saturdays. We will be furnished drinks, as usual, and we can continue bringing our own snacks. If you feel the need for more nourishment during the meeting time, please feel free to bring a sack lunch.
Click here to get driving direction from Map Quest.